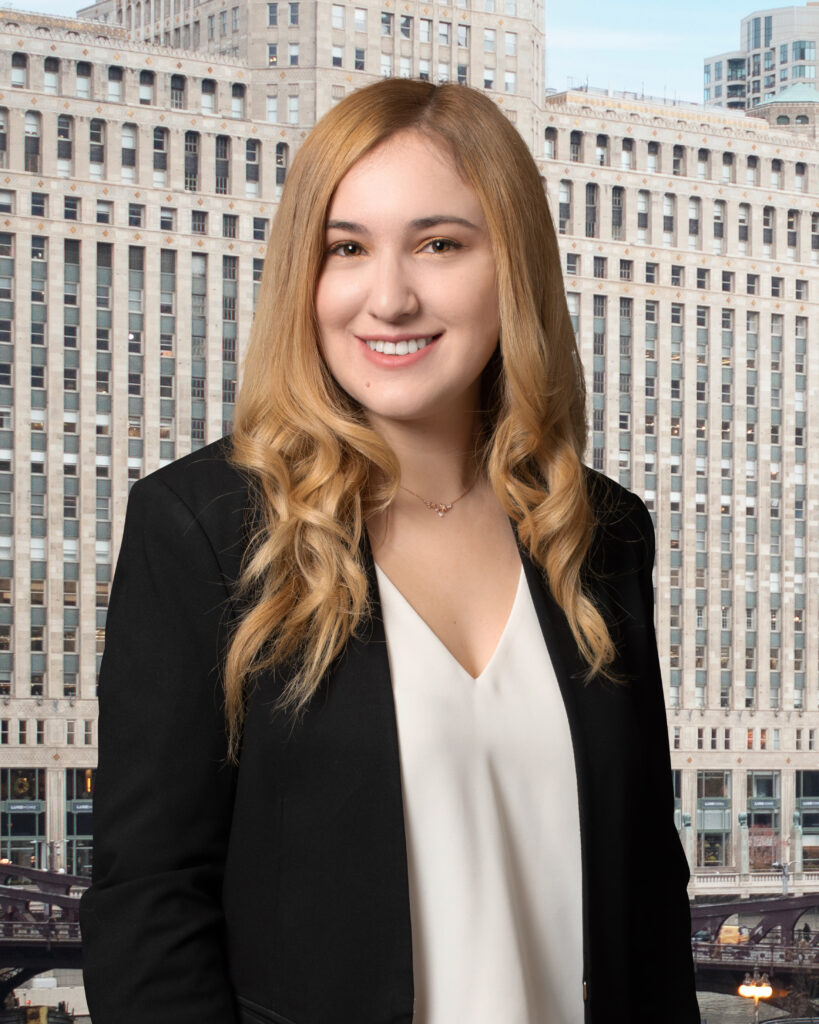 University of Notre Dame Law School, J.D. 2020
Notre Dame Intellectual Property & Technology Law 2020 Writing Prize (2nd Place)
University of California: Berkeley, B.A. in Media Studies, 2017 (cum laude)
"Best Lawyers: Ones to Watch" (2023)
Victoria Hanson joined Irwin IP as an associate in November of 2020.  Her practice primarily focuses on trademark litigation and prosecution.  Victoria works on various litigation issues including trademarks, trade dress, cybersquatting, unfair competition, copyright, counterfeiting, design patents, and false advertising and maintains and manages Irwin IP's trademark prosecution practice. 
REPRESENTATIVE MATTERS
Victoria has worked on various litigation matters, including trademark, copyright, unfair competition, cybersquatting, and design patent matters.  Some of those matters include:
An appeal before the Seventh Circuit and post-judgment proceedings in a trademark infringement and cybersquatting litigation between the nation's largest provider of legal funding services and a previous employee.
A trademark infringement dispute between a supplier of aftermarket automotive parts and an infringer using the client's trademarks on their website.
A copyright infringement litigation in which a leading provider of concrete statuary accused an entity of infringing the copyrights of multiple works which resulted in a favorable settlement.
A design patent infringement litigation between a well-known RV distributor and a competitor.
A design patent infringement litigation between a well-known supplier of aftermarket automotive parts and an automotive manufacturer.
Victoria has also assisted and counseled many clients with their trademark prosecution and enforcement matters before the United States Patent and Trademark Office and in dealing with infringers, including:
Assessing and clearing the strength of potential trademarks.
Preparing and filing trademark applications.
Responding to pre-registration and post-registration office actions, including descriptiveness, functional, and likelihood of confusion refusals.
Preparing and filing registration maintenance and renewal forms under Section 8, 9, and 15.
Drafting and sending cease-and-desist letters to infringers.
MEMBERSHIP & AFFILIATIONS
Professional Development Committee, Chicago Women in Intellectual Property
Volunteer Attorney and Member of the Associate Board, Lawyers for the Creative Arts
Member, Richard Linn Inn of Court
Member, International Trademark Association
COURT ADMISSIONS
Illinois
PUBLICATIONS
"A Proposal to Update US Customs' Trademark Seizure Process to Prevent Misuse," Landslide, American Bar Association, Vol. 15, No. 1, September/October 2022
Improving the Defend Trade Secrets Act of 2016: Against Preempting State Trade Secret Law, 2 Notre Dame J. on Emerging Tech., Issue 1 (April 2021)
"Singapore and the United States: At Two Opposite Ends of Access and Advancement in Trademarks", Notre Dame Journal on Emerging Technologies (Blog), January 2020
PRIOR EXPERIENCE
Before joining Irwin IP, Victoria worked for a boutique regulatory & intellectual property law firm in Chicago and a general practice law firm in California, where she worked on trademark prosecution and litigation matters.  While attending law school, Victoria counseled and managed trademark portfolios for various clients with the Notre Dame Intellectual Property and Entrepreneurship Clinic.  Victoria was also a Legal Extern for the General Counsel of the National Association of REALTORS in Chicago, where she worked on various trademark and copyright issues.  Victoria has experience drafting and filing trademark applications, responding to substantive trademark office actions, drafting and sending cease and desist letters, completing preliminary trademark searches, drafting search opinion letters, and preparing motions and discovery responses.
As a student at Notre Dame Law School, Victoria served as a senior editor for the Notre Dame Journal on Emerging Technologies and as the Vice President of Communications for the Sports, Communications, and Entertainment Law Forum.  Victoria also received second place for the 2020 Notre Dame Intellectual Property & Technology Writing Prize for her paper on the Defend Trade Secrets Act of 2016.
SPEAKING ENGAGEMENTS
Moderator and Organizer, "A Day In the Life of a TTAB and PTAB Judge" by ChiWIP and USPTO
Moderator, "Keep Calm and Carry On: Office Life Post- Covid" by Richard Linn: American Inn of Court
Moderator and Organizer, "Anticounterfeiting & Brand Protection" by ChiWIP and INTA