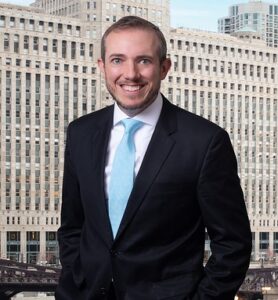 J.D., summa cum laude, University of Wisconsin Law School, Madison, Wisconsin, 2003, Order of the Coif; Law Review
B.S., Computer Science and Political Science, University of Wisconsin, Madison, Wisconsin, 2000, Graduated with Distinction
Licenses
Illinois
Jason Keener joined Irwin IP in 2022 and was elevated in 2023 to partner as part of the initial partnership class. Jason has over 18 years of experience in intellectual property litigation involving patent, copyright, trademarks, and trade secret disputes in the areas of automotive, software, internet, and technology. He regularly represents clients seeking to enforce or monetize their intellectual property assets as well as defending clients against claims of infringement asserted by both competitors and non-practicing entities. Jason assists clients in resolving intellectual property disputes with a focus on the business goals of the client. Often this involves pre-litigation or early resolution of the dispute. However, where necessary, Jason leads the case through trial and any appeal, which he has successfully done for numerous clients. He ensures that his clients are represented by a lean but scalable team of litigators and technical support that avoids the inefficient use of his client's resources.
Innovative solutions are an integral part of Jason's litigation philosophy. As part of that philosophy, Jason not only looks for opportunities to push intellectual property law in novel ways but also presents clients with alternative billing arrangements that allow for a measure of certainty or predictability of often unpredictable litigation costs.
Prior to joining Irwin IP, Jason was a partner at Foley & Lardner LLP, a partner and chair of the IP department at Fox Swibel Levin & Carroll, and a senior associate at Clark Hill, PLC.
REPRESENTATIVE MATTERS
Representing manufacturer of leveling systems for recreational vehicles against patent infringement claims asserted by the market leader.
Representing developer of eye tracking systems for improving the effectiveness of advertising in asserting patent portfolio against market competitors.
Representing the owner of the intellectual property rights in a major motion picture character in asserting copyright and trademark rights against unauthorized derivatives.
Representing a fitness equipment manufacturer against copyright infringement and tortious interference claims related to videos and software integrated into fitness equipment.
Representing equipment servicing company against claims of copyright and trademark claims for use of competitor's technical drawings in servicing and maintaining competitor's equipment.
Represented an educational course management software company against patent infringement claims asserted by competitor. Successfully resolve the case through the development of a redesigned system while simultaneously invaliding the asserted patent through trial and on appeal.
Represented a financial institution against patent infringement claims directed to processing of encrypted check images. Successfully resolved the dispute at trial, despite the overwhelming majority of financial institutions settling prior to trial.
Represented a global game manufacturer in asserting dozens of copyright and trade secret claims against an internet startup manufacturing infringing products. Successfully resolved the dispute through trial and enforcement of injunctive relief.
Represented a global online discount platform against patent infringement claims asserted by numerous non-practicing entities. Disputes resolved through aggressive pre-complaint tactics, invalidating the asserted patents at the Patent Office, and through early dispositive motion practice against patent-ineligible subject matter.
Represented the internet branch of a major league sports organization against patent infringement claims related to generating computer simulations and representations of live events. Successfully resolved the dispute after acquiring rights from inventor's prior employer.
Represented a lighting manufacturer and distributor against patent infringement claims directed to LED lighting fixtures. Successfully resolved the dispute after summary judgment filings.
Represented a global food manufacturing and processing conglomerate against patent infringement claims directed to a core product. Successfully resolved the dispute through seeking declaratory relief and aggressively seeking early depositions of the inventors.
Represented multinational software corporation in asserting copyright and trade secret claims against a competitor's product developed by former employees of the corporation. Successfully resolved the dispute through obtaining an injunction and sustaining the injunction even in the face of a purported "clean room" redevelopment of the software.
COURT ADMISSIONS
U.S. District Ct., N.D. of Illinois
U.S. District Ct., C.D. of Illinois
U.S. District Ct., E.D. of Michigan
U.S. District Ct., E.D. of Tennessee
U.S. District Ct., E.D. of Texas
U.S. District Ct., E.D. of Wisconsin
U.S. District Ct., W.D. of Wisconsin
U.S. Court of Appeals, Fifth Circuit
U.S. Court of Appeals, Seventh Circuit
U.S. Court of Appeals, Federal Circuit