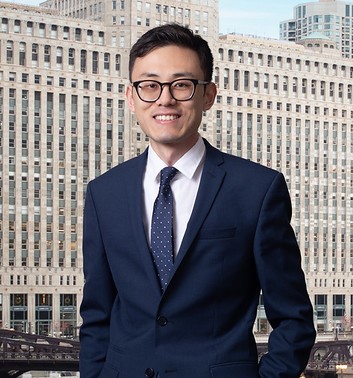 Chicago-Kent College of Law, J.D., 2021
University of Minnesota­––Twin Cities, College of Science and Engineering, 2016
– B.S. in Chemistry
– Minor in History
Licenses
Illinois
USPTO
Anthony Hao is an associate at Irwin IP. Anthony's practice primarily focuses on patent litigation.
REPRESENTATIVE MATTERS
Some of the matters on which Anthony has worked and his specific responsibilities include:
Part of a team that favorably resolved a design patent dispute for a Fortune 500 company against a multinational conglomerate manufacturer of automobiles in the Central District of California

Researched and analyzed complex legal issues related to design patent law and Federal Rules of Civil Procedure
Conducted extensive prior art search using both online resources and physical media
Worked with prior art experts to develop invalidity arguments
Drafted motion for leave to amend, multiple motions to compel and the memoranda in support of these motions
Worked with e-discovery vendor to receive, review, and organize document productions
Provided support for deposition proceedings

Part of a team representing a Fortune 500 company in multiple design patent litigations in the Northern District of Illinois

Research and analyze complex legal issues related to design patent law
Conduct extensive prior art search
Participate in e-discovery review

Represented and obtained a favorable settlement for a restaurant equipment supplier against its manufacturer regarding an indemnification dispute

Drafted mediation statement and prepared relevant exhibits
Participated in mediation
PRIOR EXPERIENCE
Before joining Irwin IP, Anthony worked for a boutique patent firm that focuses on patent licensing and litigation. During his time at that firm, Anthony worked on many patent licensing matters on behalf of both domestic and international clients, covering a wide range of technologies including mechanical devices, search engines, media streaming, LED lights, and cameras. As a result, he has extensive experience in drafting claim charts and responses to invalidity challenges. He also provided crucial support in negotiating a patent license with a Fortune 500 company on behalf of a European client.
As a student at Chicago-Kent College of Law, Anthony worked at the IP Law Clinic where he provided patentability opinions on inventions related to software applications, mechanical devices, and gaming. While in law school, Anthony served on Chicago-Kent Law Review and Chicago-Kent Journal of Intellectual Property. He was a member of the Chicago-Kent Intellectual Property Law Society. Anthony is also the recipient of the Chicago-Kent Certificate in Intellectual Property Law.
Prior to law school, Anthony earned his undergraduate degree in Chemistry from University of Minnesota with a focus on pre-pharmacy studies. He has extensive work experience in retail, clinical, and specialty pharmacies.
MEMBERSHIPS & AFFILIATIONS
Chicago Bar Association
Intellectual Property Law Association of Chicago
LANGUAGES
Mandarin