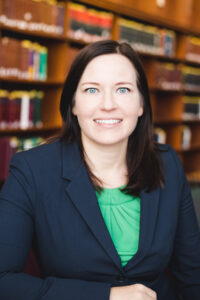 Irwin IP is pleased to announce that our very own Peggy Herrmann has been recognized as a "Ones to Watch" by Best Lawyers, which highlights attorneys who have been in private practice for five to nine years.  This designation reflects the tremendous hard work and effort Peggy has invested to  become a world-class intellectual property attorney.  Peggy was chosen from a select group of talented attorneys due to her accomplishments as a lawyer in the Intellectual Property field. Lawyers recognized in Best Lawyers: Ones to Watch are reviewed by their peers on the basis of professional expertise, and undergo an authentication process to make sure they are in current practice and in good standing.
As a registered patent attorney with a background in chemistry, Peggy has drafted U.S. and PCT patent applications, various agreements to support a client's R&D projects and transactions, and clearance and legal opinions.  She has worked with individual inventors and multinational corporate clients, one of whom she supported as interim in-house patent counsel.  Peggy has been an integral member of patent litigation and post-grant-proceeding teams related to semiconductors, automobile parts, catheter packaging, and protective enclosures for electronic devices.  Her experience includes preparing discovery requests and responses and invalidity charts to support complex patent litigation, as well as collaborating with experts to prepare declarations and expert reports. 
Peggy is a strong advocate who relentlessly strives to assist her clients in achieving their immediate objectives while bearing in mind their overall goals and values. She is also an active member of numerous bar associations where she helps plan CLE events and mentors younger attorneys and law students.  Peggy is also a volunteer attorney for Chicago Volunteer Legal Services.
Please join us in congratulating Peggy on this honorable achievement.