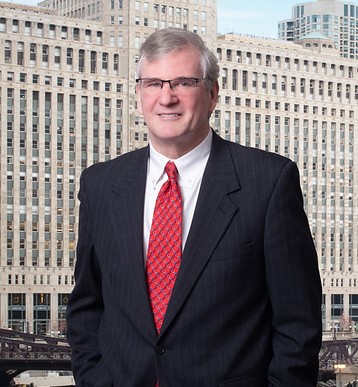 Purdue University, B.S.  (1982)

DePaul University School of Law, J.D. (2000)
Edward Runyan is a registered patent attorney with over twenty years of experience regarding patent infringement litigation in U.S. Federal Courts and the ITC.  Edward has also provided general counseling for patents and technology, drafting and prosecuting U.S. and international patent applications, and he also has experience advising on the IP aspects of mergers and acquisitions such as portfolio analysis and IP due diligence.
Before joining Irwin IP, Edward was an IP litigation partner at two of the world's largest law firms.  In addition to his extensive legal experience, Edward was previously employed as a Master Systems Electrical Engineer at United Technologies Aerospace Systems in Rockford, IL where he was responsible for the design, development and support of electrical power generating systems for commercial and military aircraft.
COURT ADMISSIONS
Illinois State Bar
Trial Bar for the Northern District of Illinois
U.S. District Court, District of Illinois
U.S. District Court, District of Colorado
U.S. Court of Appeals, Federal Circuit
U.S. District Court, District of Nebraska
U.S. Patent and Trademark Office
PRACTICE AREAS
Patent Litigation
Inter Partes Review
Patent Drafting and Prosecution (U.S. and International)
Patentability Analysis and Opinions
IP Portfolio Analysis

ASSOCIATIONS
IEEE member
ARTICLES
–"Supreme Court Rules Greater Precision and Clarity Required of Patent Claims" June 5, 2014
– "Attorneys' Fees in Patent Cases" May 6,2014

REPRESENTATIVE LEGAL MATTERS
Barco.  Trial and lead counsel for Barco, N.V. in several offensive and defensive patent infringement matters involving displays, semiconductors (e.g., microprocessors) and related technologies.  Several defensive matters resulted in case dismissals without payment; and first-chairing a claim construction argument that resulted in invalidation of all system claims of an asserted patent.
Pergo v. Alloc. Trial counsel for defendant; 2-week jury trial, resulting in a complete defense victory, upheld on appeal.