Irwin IP is regularly identified as a Best Law Firm.  This is not a surprise to us.  As a smaller firm, our success and the success of our clients starts with our firm's culture, driven by our desire for Excellence, Integrity, and Success:
Excellence
Staff cases with skilled attorneys with relevant subject matter expertise
Provide thorough, thoughtful, and accurate legal advice
Explore innovative strategies and cost saving measures
Prepare every case for trial from inception
Continuously train attorneys, focusing on trial advocacy
 Integrity
Treat clients, opposing counsel, and the court with the utmost respect
Foster a collaborative, collegial, diverse environment within the firm and among the broader legal community
Encourage participation in pro bono matters, attorney passion projects, community outreach endeavors, and non-for-profit boards
 Success
Represent innovative and well-regarded clients
Achieve our clients' goals, through the most cost-effective avenues possible
Handle challenging matters that present an opportunity to set precedent
Our culture is instilled through mentoring.  As a smaller firm, our attorneys find mentorship organically as they interact with their colleagues.  To compliment the natural mentor-mentee relationships that occur in our firm, we also have a formal mentorship program.  Each new attorney at Irwin IP is partnered with an experienced member of the firm.  The goal is that each mentor-mentee pairing will meet several times a year to discuss the mentee's successes and challenges and to allow the mentor to provide career guidance and advice.  In addition, our summer associates are paired with a mentor attorney to introduce the summer associates to our firm culture, ease the transition from law school to practice, and ensure that the summer associates have a sounding board for their questions.
PROFESSIONAL AND BUSINESS DEVELOPMENT

To ensure a culture of personal and professional growth of each attorney, Irwin IP has a dedicated Director of Professional and Business Development. Irwin IP assists every associate in creating and annually updating their own professional and business development plan based on their individual interests and career goals. These plans serve as clear guidance for our attorneys as they transverse and navigate their career. These plans help ensure that associates get exposed to all areas and stages of IP litigation as their experience grows. These plans also help associates become thought leaders and begin developing their own client relationships through actions such as co-authoring scholarly articles, attending and presenting at tradeshows and legal conferences, and being substantively involved in new client pitches. We highly encourage our attorneys to be active in their communities and committed to social justice and assist them every step of the way.
Our culture is supportive, collegial, and collaborative.  Better work is done by happy attorneys, and at Irwin IP, we take the business of fun very seriously.  With an official Irwin IP Party Planning Committee (the PPC!), we regularly host spectacular events (if we do say so ourselves), including:
Annual summer gathering at Whirleyball
Annual Yankee Swap and Ugly Sweater Party where highly coveted pop culture gifts such as burrito blankets and Game of Thrones goblets have been lovingly given, received, and stolen
Events at various Chicago locations including Royal Palm Shuffleboard, AceBounce Ping Pong, Flight Club Darts, Chopping Block Cooking classes
Team participation in a bi-monthly Trivia Night at Half Sour
Team participation in CVLS-Race Judicata (5k) to support pro bono efforts in our community and our attorneys' physical strength and endurance
"Friendsgiving" luncheons
Annual Holiday Tea at the Drake Hotel
Taco Tuesdays and Pizza Fridays in the office for those weeks when we all have tight deadlines
Virtual programming in the pandemic or during work from home days that include a Mixology class, a Bingo night, cocoa and painting, and an interactive Murder Mystery Theater proving our flexibility and continued commitment to be engaged with each other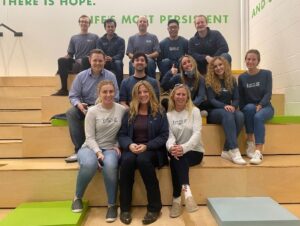 Our culture values giving back to our community above and beyond our strong commitment for each attorney to provide significant pro bono legal services.  We also strive to give back by participating in various volunteer events and activities throughout the greater Chicago community.  Each year, we host two firmwide volunteer events, one in the summer and one in the fall.  We also encourage our employees to donate their time and talents to causes about which they are passionate.  Our staff and attorneys consistently log time with The Alliance for the Great Lakes, Feed My Starving Children, Connections for the Homeless, and the Greater Chicago Food Depository to name a few.
Our culture creates a lifestyle firm, and we recognize that a good attorney is one with a healthy and fulfilling personal life.  To encourage a healthy work-life balance we:
Provide a comprehensive Hybrid Work From Home Plan
Promote activities and products that combat stress and boost productivity, including standing desks, meditation room, pool table, and shuffleboard table
Provide firm-paid membership to building's gym
Provide a book club to those interested to regularly discuss firm-provided books on non-legal topics
Provide monthly health and wellness topics in the areas of intellectual, emotional, physical, spiritual, and social well-being with resources that focus on the legal profession
Act as a liaison and support Lawyers Assistance Program (LAP) with their efforts in providing a path to wellness to those struggling in the legal profession in Illinois. 
Provide in house professional responsibility CLE's in the areas of mental health and substance abuse
Ensure all employees receive annual training in discrimination and sexual harassment and support the efforts and education of the Illinois Department of Human Rights